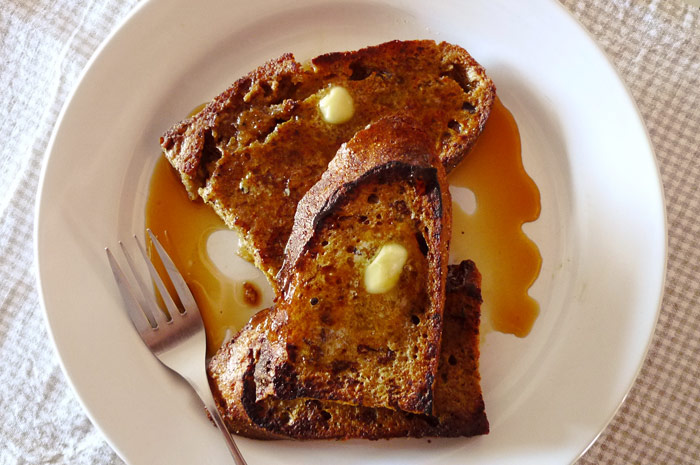 [tp lang="es" only="y"]La tostada francesa, pain perdu, prima de la torrija, ésa. Las recetas, que dan vueltas desde el siglo XV, han sido siempre una forma de reciclar el pan viejo, y yo, en este caso, utilicé el roca miche del curso de Hamelman. La miche u hogaza que hicimos de 1.5k, integral, maravillosa y de masa madre, se fue en parte al congelador (tenía exceso de pan en casa, si eso es posible) así que después de un par de días de descongelarla había que hacer algo con ella. Qué mejor para un pan francés que unas tostadas francesas ¿no?. Usar un pan como este, con ese carácter y ese sabor tan intenso, en una tostada francesa da un resultado diferente, no van a quedar igual que con un pan más suave y de trigo blanco ya que este pan es más duro, con más corteza y con una miga que se deshace menos. Pero el resultado ha sido glorioso, probadlo.[/tp]
[tp not_in="es"]French toast, pain perdu, or torrijas. Recipes that have been spinning since the fifteenth century, they´ve always been a way to recycle old bread, in this case I used a miche from the Hamelman course. The miche or loaf we made was 1.5k, whole wheat, wonderful and all sourdough. It was partly in the freezer (I had too much bread at home, if that's possible) so after a couple days of taking it out I had to do something with it. What could be a better end for a French bread than a French toast, right? Using this bread, with so much character and flavor in a French toast gives a bit of a different result. It´s not going to turn out the same than with a softer white wheat bread as this bread is harder, with more crust and a tough crumb. But I have to say the result was glorious, try it.[/tp]
[tp lang="es" only="y"]Ingredientes
1 huevo
leche
mantequilla
canela
nuez moscada
sirope de arce (miel de maple)
Pan viejo en rodajas
En una bandeja de horno colocar el pan en rodajas. En un bowl batir el huevo y añadir la leche, la canela, y la nuez moscada. Mezclar bien. Echar esta mezcla en la bandeja sobre el pan. Tiene que haber suficiente líquido para que el pan quede bien mojado. Dejarlo reposar por un lado y pasados unos 10 minutos girarlo y que repose por el otro lado. Se tiene que empapar bien.
Calentar mantequilla en una sartén y freír las rodajas una a una para dorar bien ambos lados. Las sacamos y las reservamos. Las ponemos de nuevo en la bandeja de horno y las metemos al horno unos 10 minutos a 170ºC. Sacar y servir con un poco de mantequilla y sirope de arce (miel de maple). Listo, auguro un desayuno memorable.[/tp]
[tp not_in="es"]Ingredients
1 egg
milk
butter
cinnamon
nutmeg
maple syrup
Old sliced ​​bread
[/tp]
[tp not_in="es"]In a baking pan place the sliced bread. In a bowl beat the egg and add milk, cinnamon, and nutmeg. Mix. Pour this mixture over the bread tray. There should be enough liquid so that the bread is well soaked. Let stand on one side and after about 10 minutes turn it and let it sit on the other side. It has to get soggy.
Heat butter in a pan and fry the slices one by one to brown well on both sides. Take them out, put them back on the baking pan and put them in the oven for about 10 minutes at 170 º C. Remove and serve with a little butter and maple syrup. Voilà! I predict a memorable breakfast.[/tp]